Sport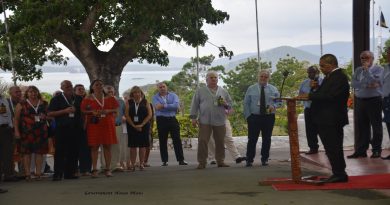 EMTV Online
Comments Off

on Governor General Sir Bob Dadae: Collaboration with Other Nations Provides Opportunity for Sports
The Governor General acknowledged the role of the Private Sector in supporting sporting activities through funding and sponsorship necessary to make these events a reality. He highlighted the importance of establishing a good network of business people and individuals in staging sports events in the world.
Pacific
Elizah Palme
Comments Off

on 'Rural Developments' – Important Part of APEC SCC 2018 Talks
Developing rural communities through out the APEC region through Regional Economic Integration and Connectivity was an highlight at the  APEC Study Centers Consortium Conference 2018 (ASCC2018) during the Second Senior Officials Meetings and Related Meetings at the International Convention Centre in Port Moresby.

Reuters
Comments Off

on Hawaii braces for worse lava flows from erupting volcano
Reuters
Comments Off

on New Zealand hikes foreign aid budget with eye on contested South Pacific

Reuters
Comments Off

on Hawaiians brave volcanic gases, lava to retrieve pets, belongings
International
Reuters
Comments Off

on Hawaii reports first serious injury from volcano
A stream of lava blocked a Hawaii highway on Sunday that serves as an escape route for coastal residents, while the first known serious injury was reported from fresh explosive eruptions from the Kilauea volcano.

Reuters
Comments Off

on Oil hits highest since November 2014 as Brent edges closer to $80

Reuters
Comments Off

on 'Ballistic blocks' shoot from Hawaii volcano, may mark start of violent eruptions

EMTV Online
Comments Off

on Papua New Guinea Governor General Congratulates Royal Couple on their Wedding